Caring for Her Community
Anisa Ibrahim, MD '13, Res. '16, received care at the Harborview Pediatrics Clinic as a child. Today, she's its director.
For Anisa Ibrahim, MD '13, Res. '16, walking into work each day is a reminder of how far she's come. She's the director of the Harborview Medical Center Pediatrics Clinic, where she received healthcare throughout her own childhood — as well as the mentoring that would inspire her own medical career.
"The care and love that they gave to me and my family is something that we remember to this day," says Ibrahim. Now, she brings that same spirit of caring to every patient she sees in her clinic.
Sharing the Patient's Experience
Ibrahim was six years old when she came to the United States in 1993. Her family had fled the civil war in Somalia and stayed in a refugee camp in Kenya, where they saw poverty, malnutrition and disease firsthand.
"When you are in a situation like that, you see a lot of things that you wouldn't otherwise as a child — you see death, you see disease," says Ibrahim. "Because my family came here as refugees, we experienced firsthand many of the things that the families that I now have the privilege of caring for experience."
After her family settled in Seattle, Ibrahim and her siblings received their pediatric care at the Harborview Medical Center Pediatrics Clinic, a place that would have an enormous impact on her life. Soon, she was informing her family and the clinic staff that she wanted to be a doctor, too.
"I like to tell my patients — especially the young ones, so that they can see themselves in places they might not have imagined — that I was a patient in this very same clinic, and that's why it means so much to me," says Ibrahim.
"Our doctors advocated for us. They believed me and my siblings when we said we all wanted to go to college, and that I could become a physician."
Mentors Make a World of Difference
One of Ibrahim's healthcare providers — and biggest supporters — was Dr. Elinor Graham, now an associate professor emeritus of pediatrics at the UW School of Medicine. Like Graham, Ibrahim wanted to provide care and build community support for children from immigrant, refugee and minority populations as well as low-income families.
"Her reaction made a world of difference, because it was just genuine support and belief," says Ibrahim. "It made me feel like I could do it."
As an undergraduate, Ibrahim participated in School of Medicine programs for first-generation students and decided that it was the right medical school for her. The breadth and depth of training appealed to her, as did unique educational opportunities such as clinical rotations around the WWAMI (Washington, Wyoming, Alaska, Montana and Idaho) region.
"Being at Harborview and seeing the vast array of services and people that are served, but also their approach to how people are served, was really important for me," Ibrahim says. "I saw how the physicians centered equity and changed their practice in a way that fit their patient population."
Ibrahim graduated from the School of Medicine in 2013, where she later completed her residency training in pediatrics. In 2016, she joined Harborview as a general pediatrician, and in 2019, she was appointed director of the pediatrics primary-care clinic. She is also a clinical associate professor of pediatrics at the UW School of Medicine and holds an appointment at Seattle Children's.
Throughout Ibrahim's medical education, Graham continued to be a valued mentor. "When things got hard or confusing, I would check in with her," says Ibrahim. "I checked in with her when I was taking over as medical director, because this is a job that she used to do. So she remains this central person that I can always go back to."
Building Community Partnerships

In addition to her work at Harborview, Ibrahim is deeply involved with the Somali Health Board, which she calls her "heart's work."
The board was created because community members saw that public-health messaging and information wasn't reaching the Somali population. Now, Somali health professionals work to identify and reduce healthcare inequities, partnering with health systems to improve the community's health. And, importantly, they work with the Somali community to understand their needs and priorities.
"It values lived experience and centers community in a way that health systems are not used to doing. Because we are a part of the community, that community trusts us, and we partner with them in a way that puts them first and then makes the health systems mold into what they need. It's work that I'm incredibly proud of," says Ibrahim.
In 2021, Ibrahim was recognized with the School of Medicine's Alumni Early Achievement Award. She was also honored in this year's cohort of Great Immigrants, Great Americans, which recognizes naturalized citizens who have made notable contributions to the progress of American society. Yet Ibrahim remains humble about her accomplishments.
"Looking back at my journey and forward at my career, the thing that I am most proud of is staying true to and centering the communities and families that we serve at Harborview," says Ibrahim. "It's the driving value behind all the things I do."
Written by Stephanie Perry
2021 Alumni Early Achievement Award: Anisa M. Ibrahim, MD '13, Res. '16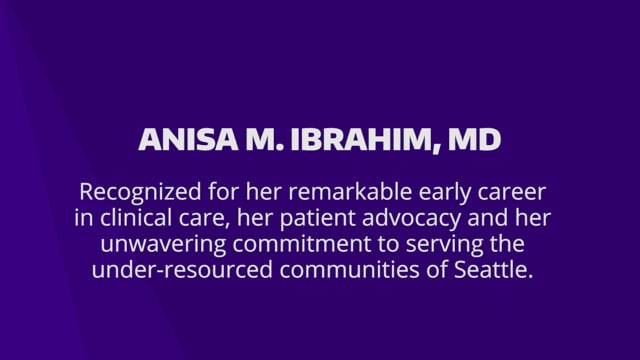 Learn more about the Distinguished Alumni Awards and how to nominate the colleagues and classmates who inspire you.